Photo courtesy Doug Plummer
I began folk dancing and contra/square dancing while attending MIT in the early 1970's, and after graduating I was a rare (for the time) "Dance Gypsy" in New Hampshire and Massachusetts. When I moved to California in 1981, I found that the New England dancing I enjoyed was not being called in San Francisco — the contradances were "California style". That's why I started calling dances in 1982, but it meant I wasn't dancing...
And now my calling style is much more California than New England, with a little Southern and a smidgeon (oops! — I mean すこし) of Tokyo thrown in. Shoganai!
In 1983 I took over the Palo Alto Contradance at Stanford, started by Nick Harris in 1975, and then run by Brad Foster. In 1982 Brad moved to New England as the new Director of the Country Dance and Song Society and Susan Murphy took over the dance. In 1982 I founded the BACDS Berkeley Wednesday contra dance, sharing calling with Harry Brauser for the first several dances. In 1983, Susan went off to veterinary school, and I inherited the Palo Alto dance. Then Harry moved to San Diego, and I was running, programming, and calling 2 Bay Area contra dances. Fortunately, in 1985 Ruth Lowengart took over the Berkeley dance, and I concentrated on the Palo Alto contra. That bi-weekly Palo Alto dance series is celebrating a history of 40 years, which I believe makes it the longest continuously running contradance series in California. I was the programmer and main caller there for nearly 30 years of that long run.
The Palo Alto Contra is now run by two committees, one doing the programming/bookings, and one running the evening dances.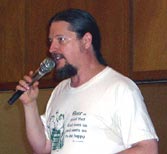 In all, I've been calling for more than three decades. In that time, I've also written several dozen dances which have entered the repertoire. I have toured most of the US and several other countries. In 1992 I taught and called contradances (in Russian) on tour with dancers and musicians in Russia and the Ukraine; I have taught and called contradances and New England square dances in England, Scotland, Germany, Denmark and Sweden, and have taught and called contradances and Modern Western Square dances in Tokyo, Japan.
Calling for first-time dancers is a specialty!
Contradancing and square dancing with exciting live music is a great activity for weddings, private parties, company events, rafting trips (yes, really!), almost any kind of get-together. I've done many such events, and have taught several thousands of first-time dancers who all had a great time at a fondly memorable event. Many left the event finding themselves hooked on a good way to have fun, and are now among our regular dance crowd.
I am available for booking, and can arrange for some of our best and favorite local Bay Area dance bands to play at your event. Or, if you already have musicians lined up, I can work with them. Contact me at eric@eric-black.com to discuss.

Photo courtesy Doug Plummer

One of the things I will get around to soon, is a searchable online database of my dances, and my bookings calendar. Expect it Real Soon NowTM.

Here's the probably out-of-date calendar for upcoming dates:

Mar 22, 2014: Palo Alto, CA with Sorceror's Apprentice (Lee Anne Welch, Joe Weed, Andy Imbrie, and the next generation of fiddlers!)
Apr 25, 2014: San Francisco, CA with Three Fifths of Scotch (Eloise Blanchard, Elizabeth Todd, Debra Tayleur, Del Eckels)
Jun 13, 2014: Berkeley, CA Circle Left gender-free contra with Uncle Farmer (Ben Schreiber, Michael Sokolovsky, plus Scotty Leach)
Jun 14, 2014: Palo Alto, CA with StringFire (Erik Ievins, Patti Cobb, James MacQueen, Annie Rodier)
Jul 26, 2014: Palo Alto, CA with The wiNgNuts (Chris Knepper, Christie Hubbard, Will Wheeler)
Oct 5, 2014: St. Louis, MO with Mound City Slickers
Oct 11, 2014: Palo Alto, CA Contra College all-day workshop on contradance style with Common Farmer (Ben Schreiber, Derya Aikin, Deniz Aikin)
Oct 11, 2014: Palo Alto, CA evening dance with Common Farmer (Ben Schreiber, Derya Aikin, Deniz Aikin)
Oct 19, 2014: San Jose, CA with BLAM! (Marta Lynch, Elizabeth Todd, Bob Silberstein)
Dec 4, 2014: Seattle, WA (Lake City Comm. Ctr) with Frequent Flyers (Laura Light, Dave Bartley, Jeff Spero)
Dec 5, 2014: Seattle, WA (Emerald City contra at Phinney Ridge Hall) with Frequent Flyers (Laura Light, Dave Bartley, Jeff Spero)
Dec 6, 2014: Corvallis, OR (First Congregational Church) with Frequent Flyers (Laura Light, Dave Bartley, Jeff Spero)
Dec 12, 2014: Berkeley, CA Circle Left gender-free contra with Frequent Flyers (Laura Light, Ben Schreiber, Daniel Steinberg)
Dec 13, 2014: Palo Alto, CA with Frequent Flyers (Laura Light, Ben Schreiber, Daniel Steinberg)
Jan 25, 2015: Hayward, CA with Star Thistle (Chetani Cheryl McKinney, Dave Kistler, Lonna Whipple, David Wright)
Jan 31, 2015: Palo Alto, CA with Patt & Possum (Charlie Walden, Patt Plunkett)
Mar 18, 2015: Baltimore, MD (Lovely Lane Church) with The Baltimore Open Band
Mar 21, 2015: Greeneville, NC (River Falls Lodge) with Laura Light & friends
Mar 23, 2015: Asheville, NC (Grey Eagle pub) with Laura Light & friends
Mar 24, 2015: Clemmons, NC with Party of Three (Neil Pearlman, Lily Pearlman, Joe De Paolo)
Apr 20, 2015: Palo Alto, CA with Rodney Miller & Jeff Spero
Apr 24, 2015: Mansfield, MA NEFFA Friday Night Contra-Square Party with Contrail
In the meantime, you can find my upcoming public BACDS dates in the San Francisco Bay Area here:

Here's a raw list of my most popular dance compositions. I hope you enjoy dancing them: